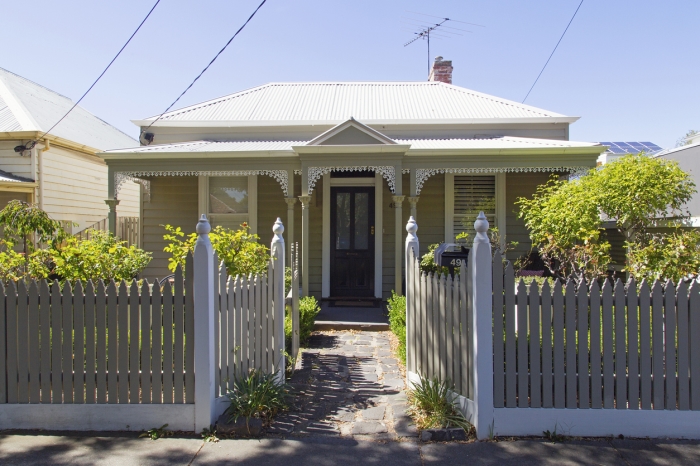 There is something captivating about period houses, they allow us to step back in time and appreciate the intricate workmanship of yesteryear. Melburnians love nothing more than restoring, renovating and transforming these classic houses into contemporary masterpieces that function for modern families. For period and heritage home renovations in Melbourne, Duncan Thompson Extensions is the leading choice. We have over 30 years' experience delivering high quality home extensions throughout historic Melbourne suburbs. Let's explore the features and characteristics of some of the older homes found throughout the city.
Early Victorian 1840 – 1860
Inspired by Gothic architecture, these houses are simple yet elegant, feature symmetrical layouts and facades, often with multi-paned sash windows, a centrally located front door, a hipped roof of corrugated iron, with a simple or no veranda. Built from brick or painted/rendered brick, these homes have limited decoration or ornamentation.
Mid Victorian 1860 – 1875
This era is distinguished by a greater level of ornamental features, including intricate cast iron lacework, decorative brickwork and patterned tile floors. The use of stucco on exterior surfaces and timber verandas are also common.
Late Victorian 1875 – 1901
As the city's wealth increased, later Victorian buildings reflected this and became grander and more ornate with elaborate and sophisticated decoration. Cast iron detailing is still a prominent feature, along with the bull-nosed veranda roof, detailed brickwork and mosaic patterned tile floors. Weatherboards were often used, although larger homes used red brick and blue stone. Terraced houses began to pop up, containing ornamented parapets and detailed dividing walls. Ceiling roses along with ornate skirtings and architraves are beautiful and impressive interior features.
Queen Anne 1895 – 1910
The Queen Anne style shows a softer, and more feminine decorative influence. Reviving elements from the architecture of Queen Anne's reign, these homes are picturesque and complex, evoking a feeling of wealth and grandeur. Most are freestanding and set well back from the street, and are characterised by crisp white-painted window frames, verandas with decorative timber features, asymmetrical design and multi-faceted roofs.
Federation/Edwardian 1901 – 1915
Named after King Edward and coinciding with the Federation of Australia, this style of architecture draws on some elements of both Victorian and Queen Anne styles, however focuses on building with the Australian climate in mind. Featuring red brick exteriors with embellished timber fretwork, tall chimneys, stained glass windows, these homes often incorporated native Australian fauna and flora motifs. Internally, Victorian features such as plaster ceiling roses, cornices and large timber skirting and architraves were evident.
Californian Bungalow 1910 – 1930
Reflecting a simpler and more relaxed way of living, these homes were based on the modest, unfussy and affordable style of post-war American homes that popped up after 1918. Humble and simplistic, the bungalow style features a broad sloping roof, spreading eaves, and a deep veranda, thick columns, and breezeways for easy indoor-outdoor living.
Art Deco 1920 – 1950
Unique yet classic with an elegant timeless appeal, Art Deco homes are heavily influenced by geometric shapes, finely detailed finishes, and modernistic forms. Built with high-quality materials and construction methods, and although essentially a modern style, these homes still retain some decoration with strong banding in brick and render, a waterfall front, steel windows and strong curvilinear features.
Mid Century Modern 1950 – 1960
Reflecting the new Australian spirit that emerged post WWII, Melbourne's mid-century homes are modest, yet high quality and were often designed by notable 20th century architects. Eclectic and experimental in design, these homes have nice layouts and often include big walls of windows resulting in amazing natural light. Moving away from classic, traditional styles, modernist designs were refined and simple and were the first to introduce open plan living.
In Melbourne, homes with beautiful period exteriors and contemporary, functional interiors are some of the most in demand properties. If you own a little slice of history and would like to transform it so that it works for your modern lifestyle whilst retaining its much-loved historical charm, get in touch with Duncan Thompson Extensions today. From concept to completion, we are the experts in heritage home renovations. Call (03) 9836 8655 or get in touch with us online now.